The 4 Best Prepaid Cards of 2020
from CreditKarma, December 10, 2019
(Article Excerpt – For full article visit https://www.creditkarma.com/credit-cards/i/best-prepaid-cards/
In a Nutshell
The best prepaid cards are designed for people who want to avoid credit cards or may not be able to qualify for a checking account. Our top picks offer varying features, like cash back rewards, low fees, free reload options, secure shopping and high-yield savings.
A prepaid card is an excellent alternative to a credit card for people who want to avoid the temptation of racking up debt.
It can also provide the convenience of plastic to consumers who don't qualify for or have a checking account. Here's our take on the best prepaid cards to help you find the right one for your needs.
---
Best for Secure Shopping: MOVO® Digital Prepaid Visa® Card
Here's why: Debit card fraud protection isn't as strong as the protection you get with credit cards. But with the MOVO® Digital Prepaid Visa® Card, you'll get extra security features, so you can feel safer when you shop.
The card allows you to create [digital] cards that are tied to your main account and can be used wherever Visa is accepted. You can also add your card information to Apple Pay, Google Pay and Samsung Pay. And you'll get a physical card in the mail to use for in-store shopping.
The MOVO® Digital Prepaid Visa® Card doesn't have a monthly fee, although you will be charged $4.95 per month if your account stays inactive for 90 days. You can add money to your card for free via direct deposit, from your bank account or with cash at a participating retailer. But note that the retailer may charge its own fee on the transaction.
If you need to get cash from an ATM, you won't pay a withdrawal fee at the 6,000 ATMs in the Visa Plus Alliance network. You'll pay a fee of at least $2 at other ATMs, along with the ATM operator's fee, if any.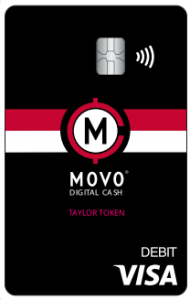 ---
Source: CreditKarma
Title: Best Prepaid Debit Cards 2020
Publish Date: December 10, 2019
Author: Ben Luthi